LAUNCHING A NEW BRAND
Cabot Lab is a leading molecular lab offering a wide range of testing menus including COVID-19, Respiratory Pathogens, UTI, STI, Women's Health, Wound and Otolaryngology Infections. The lab was created to fill a void in underserved areas in Texas. Brown Direct played a critical role in the launch of the lab managing everything from naming the lab to creating the brand and developing all marketing materials.
SOLUTIONS
Brand Name
Brand Strategy
Positioning
Messaging
Brand Identity & Guidelines
Web Design & Development
Brochures & Collateral
Direct Marketing
Outdoor Signage
CREATING AND ESTABLISHING THE BRAND
The lab needed a name and a brand identity – from the positioning to the messaging and design. After extensive research, Brown Direct named the company Cabot Lab and developed a brand strategy including a tagline, "Professional. Personalized. Precise. Prompt." that positioned the lab as the best resource to provide superior testing solutions to physicians, nurses and individuals. Cabot Lab is rapidly expanding delivering fast results and is a trusted partner in ensuring optimal patient care.
Impactful messaging and contemporary creative strategically positioned Cabot Lab as a leader in their space.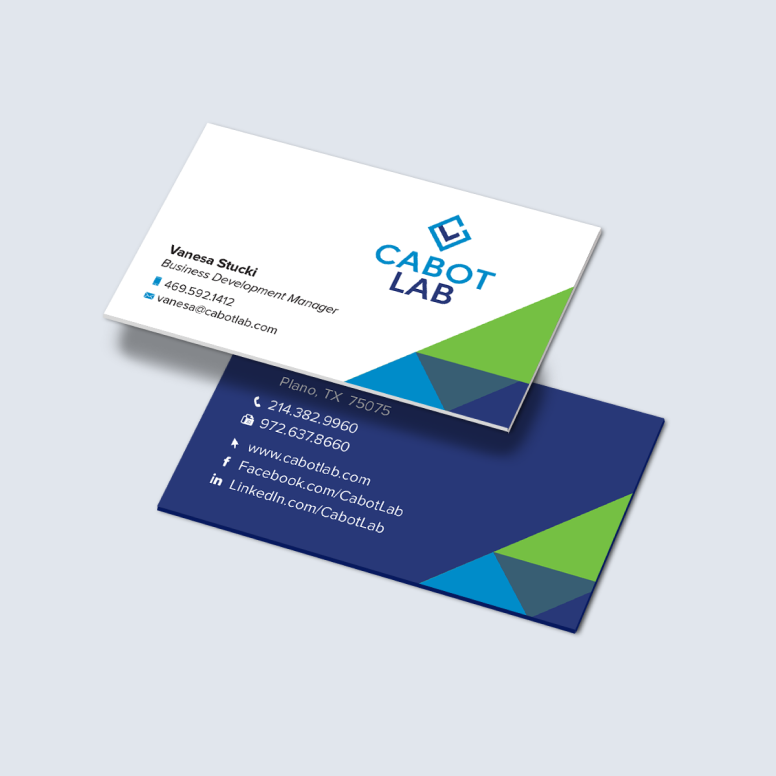 WEBSITE
The Cabot Lab brand identity is integrated seamlessly into the visual design of the website. Along with high-quality content and intuitive navigation we made it easy for website visitors to quickly and easily access the information they needed.
SALES COLLATERAL
The Cabot Lab sales team needed tools that would persuade healthcare professionals to move forward in the sales process and partner with Cabot Lab for all lab testing. Brown Direct created effective sales collateral pieces that explain how a molecular lab with PCR testing provided results with faster turnaround times reducing unnecessary antibiotic prescriptions, lowering potential side effects and drug costs to patients. We also created individual Collection Sheets for each testing menu so that healthcare professionals would know how to safely conduct each test.
DIRECT MAIL
The highly transmissible Delta variant was the predominant strain during the third wave of COVID-19. Access to tests was difficult. Cabot Lab set up drive thru locations so the public could safely be tested. Brown Direct created postcards targeted by zip code to rural area informing people of test locations. The creative was executed in English and Spanish depending upon the location.
OUTDOOR SIGNAGE
Large billboards and outdoor banners helped identify the Cabot Lab drive thru locations.